Welcome!
If you are looking for a fun performer, intelligent music and stories, engaging educational workshop/keynote presenter, an experienced teaching artist, or radio and television programming for children - you are in the right place!
Check out Rachel's Music to listen or purchase her award-winning recordings. See her programs page to learn about her interactive performances, school residencies, workshops or keynotes. Enjoy the featured videos, her chicken joke collection, or movies and information on Monarch caterpillars! If you have any questions, contact Rachel.
VIDEO OF THE MONTH: Watch Henrietta the monarch butterfly emerge from her chrysalis.
---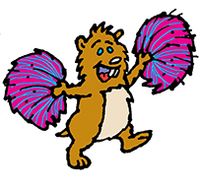 Rachel Sumner is a one-woman fireworks display. She is extremely gifted at conquering the short attention span of children (and some adults) by placing a lot of emphasis on audience participation.
Sharon Satterfield
Westview Newspaper
Nashville, Tennessee

(615) 646-3220
Nashville, Tennessee