SUMMER READING CONCERTS 2022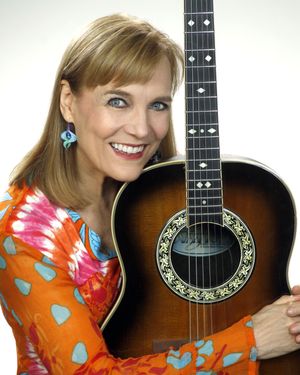 Rachel is performing in-person and virtually. If the performance is indoors, it is safer for the audience to sit 10-12 feet away from the performer if possible. Venues can help reduce risks with improved ventilation like opening doors and/or windows so fresh air can circulate.

Sing, Wiggle, Giggle - This interactive concert will tickle your funny bone and keep everyone moving! For ages 3-10, but all are welcome.
Reading is for Everyone - Celebrate the joys of reading with this fun interactive concert that features a number of songs about reading.
ABC Sing and Dance with Me! - Rachel shares songs and dances that feature letters and the sounds they make. Ages 0–5, but all are welcome. 

Dance Party - Learn to dance the twist, a hula, the monkey, the swim, and more. It is the perfect way to kick off your summer reading program or to celebrate everyone's accomplishments!

Rachel Sumner is based in Nashville, Tennessee and has performed across the United States and in Europe.

Librarians can order any of her nine CDs at: Midwest Tape www.midwesttape.com.
CONTACT RACHEL about booking her for concerts at your library!

See Rachel's YouTube Videos.
Ask about concerts or educational workshops for other times of the year too. Scroll down to see a list of some of the concerts she's done at libraries in the past. 
---

Thanks so much for a sparkling, bubbly, fun time with our children! You're an amazing treasure of talent, personality, and imagination. I appreciate knowing that whenever you come, we can expect a program that is new, current, packed with great ideas, presented with lots of vitality, full of grace and care for children. We look forward to return visits with you!
                                  Dorothy Ballenger, Children's Librarian
                                  Old Hickory Library
                                  Old Hickory, Tennessee
---
Summer Reading Concerts from Years Past and for Other Times of the Year!
Spring Holiday Concert
Songs all about the Easter bunny, ducks and chickens.
Flag Day / July 4 / Patriotic Celebration
Rachel Sumner will invite everyone to march to a patriotic medley at the end of this fun-filled concert. Wear your red, white and blue! (Make plans to pass out free flags to the children for our parade.)
Halloween Concert
A mix of Rachel's usual silliness and a couple of slightly scary but mainly funny stories.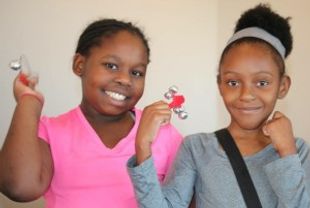 Jingle All the Way All Ages
Sing and jingle along with some of your favorite seasonal songs. Rachel will have some jingle bells to play but you can also plan to make jingle bell shakers before the concert so everyone can take one home.
---
Here are more ideas for fun-filled concerts at your library:
1. Name That Instrument Family - Learn about the three instrument families (string, wind, and percussion) during this lively performance by Rachel Sumner. She will incorporate zany instruments like the turkey baster, tin-can guitar, washboard, and recycled percussion instruments. Audience members will be invited to play some of her instruments as we sing and dance to the music we make! 

2. Rockin' at the Library - Put on your dancing shoes and get ready to rock and roll with family entertainer Rachel Sumner. You will learn to do dances called the twist, the swim, and more!

3. Rachel's Fun Time Concert - Dance, sing, giggle and have more fun than a barrel of monkeys with award-winning family entertainer Rachel Sumner.

SUMMER READING CONCERT 2020
(This show was recorded for the pandemic. Please inquire for permission to use the video for your online programming.)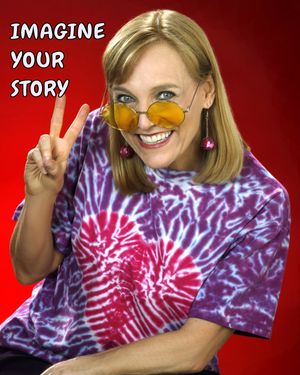 Imagine Your Story!
Children and their families will be invited to sing, dance, and role-play in this interactive musical concert of original songs inspired by traditional stories. During this fun-filled show, Rachel Sumner will encourage audience members to add their own spin to an old story to make it their own.
Rachel will present a number of examples of how writers take an old story and make it new. She will perform original songs like "Little Ms. Muffet" and "Goldilocks" and coach the entire audience in creating voices, gestures, and walks to show each character's personality in the story. She will invite a few audience members to act out a new story. Rachel will encourage audience members to write or draw pictures of their own version of a nursery rhyme or fairy tale when they get home. However, libraries can also choose to have paper, crayons and pencils available after the concert so they can write their own new story before leaving.
SUMMER READING CONCERT 2019
Especially for Space! A Universe of Stories Summer Reading 2019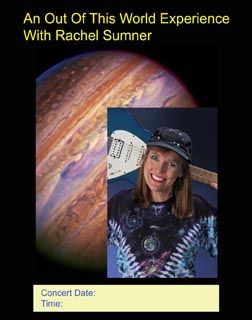 An Out of This World Concert - Rachel will blast off this concert with lots of music and a funny story called "The Lonely Martian." She will also reveal an out of this world musical instrument that she invented just for summer reading.
Dance Party - Put on your dancing shoes and get ready to rock and roll with family entertainer Rachel Sumner. You will learn to do dances called the twist, the swim, and more!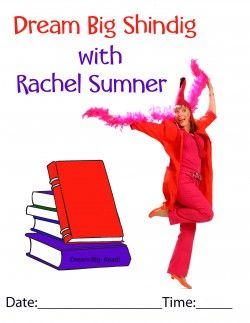 Family entertainer Rachel Sumner will delight all ages with an interactive concert full of good humor and music designed to celebrate summer reading. You'll enjoy singing along and kicking up your heels to the "Pajama Polka" and other toe-tapping tunes from her award-winning recordings.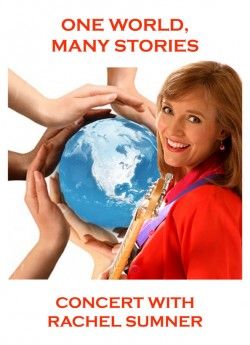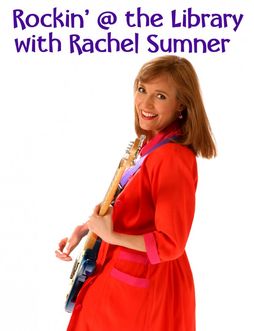 Rockin' All Around the World
Join Rachel for a celebration of music and stories from around the world. Dance to a Bolivian morenada, groove to a West African chant, and move to a rhythm and blues arrangement of Dr. Knickerbocker. This is a rockin' show full of festive family fun!

The concert will include songs available the CD Tap Those Toes:
All Around The World - original
Baa Baa Black Sheep - Malaysian version
Dry Bones - American Spiritual
Funga Alafia - West African greeting song
La Mariposa - fun Bolivian morenada in Spanish and English
Dr. Knickerbocker - a rhythm and blues arrangement of this traditional song from England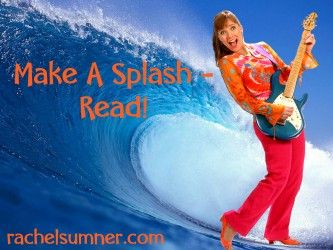 Make A Splash Read!
Rachel will keep the audience moving and grooving at this fun dance party. She will play a1960's surfer beat song all about reading that she wrote just for the summer reading theme. Audience members and given motions to do and learn to do the swim.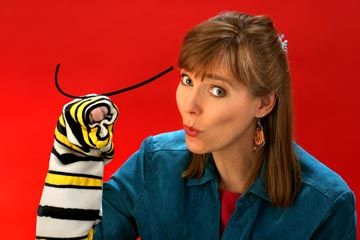 CATCH THE READING BUG
Award-winning children's recording artist, Rachel Sumner has created a special program for the "Catch the Reading Bug" Summer Reading Theme. (See Rachel's movies  of Monarch caterpillars turning into butterflies!)
 
---

Dear Rachel, You were delightful, and your program was perfectly geared toward our Summer Reading theme. The children loved you, and I was so excited to see them interact with you and enjoy your flamingo/crab story. It was so refreshing to see the children become involved in creative movement, hand motions, and singing. Yours is a program that children need and enjoy.
                                  Joy Crim, Children's Librarian
                                  Thompson Lane Library
                                  Nashville, TN

Read more recommendations!
---
HOME    ABOUT     MUSIC 

PROGRAMS     TV SHOW

RADIO SHOW     CALENDAR 

PRESS KIT    CONTACT     BLOG 
Sign up for monthly newsletter
See videos on Rachel's YouTube

(615) 646-3220
Nashville, Tennessee